on orders over $250.00. Select plans only.




Did you know that when you order a house plan from CHP, you get full technical support from our designers.

Our designers will be happy to answer any questions you may have about your COOL house plan while under construction!




Click Here to Order or call 1-800-482-0464.
In Canada, call 1-800-361-7526

---

COOL House Plan ID: chp-16937
Order Code: C101

---

Use this COOL Details Sheet to print a summary of information about this house plan.
You can ORDER this house plan now using our
ON-LINE ORDER FORM or call 1-800-482-0464. In Canada, call 1-800-361-7526 Have a question about this house plan, then why not ASK THE DESIGNER.


This plan can be MODIFIED.


---
---
House Plan Specifications
Pricing Information
Click Here to PRINT only the Specifications/Pricing Information.

Number of Bedrooms:
2
Number of Bathrooms:
2.0
Width of House:
34 feet
Depth of House:
44 feet
First Floor:
1088 sq. ft.
Total Living Area:
1088 sq. ft.
Covered Porch:
47 sq. ft.
Bonus Area:
580 sq. ft.
Bonus Area not included in Total Living Area Square Footage.

1st Floor Plateline:
8'0
Foundation Type(s) available for this plan:
Slab *
Crawlspace

Architectural Style:
Capecod
Exterior Finish:
Brick
Exterior Wall Structure:
2x6 studs
Roof Framing:
Stick
Primary Roof Pitch:
10:12

---

At COOLhouseplans.com, our customers tell us that our call center and customer service departments are the friendliest and most helpful of any house plan website on the Internet! They say we're so friendly, they can actually "hear" us smile! Hear a smile for yourself at 1-800-482-0464. We'll be happy to help you with your questions about our home plans.

In Canada, call 1-800-361-7526

We are looking forward to hearing from you!

** 1 Set of Blueprints:
$574.00
4 Sets of Blueprints:
$594.00
8 Sets of Blueprints:
$654.00
Reproducible Set:
$754.00
PDF Files:
$754.00
CAD Files:
$1,508.00
Materials List:
$70.00
Must order at least the minimum offered set of blueprints (call to confirm).
Readable Reverse:
$125.00 per order

All sets will be Readable Reverse copies. Turn around time is usually 3 to 5 business days. Not Available for Review Sets.
Slab:

add $90.00
Please call for turn-around time - may take up to 2 weeks.

Mirror Reverse:
$60.00 per order
Additional Sets:
$50.00

** 1 Set of Blueprints is a complete set of construction documents (blueprints) and is typcally stamped not for construction because, by copyright law, it is illegal to make copies of blueprints.

---

Shipping and Handling Charges:
FREE Ground Delivery:
on orders over $250.00
$00.00 (in US Only)
Second Day Delivery:
$40.00
Overnight Delivery:
$50.00

All will be shipped the next business day.

Shipping prices for Contiguous United States Only (see Order Form for Canada, Alaska, Hawaii and International Shipping Prices).

---

Read about our Plan Information Policy

---

You can ORDER this house plan now using
our On-Line Order Form.

---

---

Additional Notes:
This plan offers a classic traditional look on the outside but includes a thoroughly modern interior. The right side of the home is devoted to a large, open living and dining area, perfect for family gatherings or other events. The efficient kitchen is brightened by a skylight in the sloped ceiling and overlooks a large backyard deck. A compact laundry and an open bar are convenient to the major living areas. For economy and efficiency, the two main-floor bedrooms share a full bath. Note the large walk-in closet in the front bedroom. The second floor could be finished later if the space isn't needed right away. It offers room for two more bedrooms and another full bath.

---
---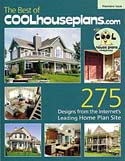 The Best of COOL houseplans.com is here!